Since 2015, Central Triad Retina has been serving patients in Winston-Salem and High Point.
To help you prepare for your visit
The patient information provided here will allow you to get acquainted with Central Triad Retina.
We are dedicated to providing the highest quality patient care and personal service while using the most advanced diagnostic and therapeutic equipment available.
A retina specialist is…
Dr. Kosobucki is board certified ophthalmologist who has also received additional fellowship training in diseases and surgery of the vitreous and retina. He commonly treats diabetic eye disease, vitreous hemorrhage, macular degeneration, retinal detachments, pre-retinal fibrosis, uveitis, and other vitreo-retinal diseases.
The retina is…
A thin sheet of nerve cells, including the light-sensitive cells that you may know as rod and cones, make up the retina. In the retina, light is converted into electrical signals that are processed by the brain, and thus give you the ability to see.
When the retina is damaged by illness or injury, the eye loses its ability to focus properly, see colors, or obscure your vision.
Preparing for your appointment
We only accept patients who are referred to us by a physician. Typically, your physician will arrange for your first appointment.
If not, appointments can be made at our Winston-Salem or Archdale office.
Our office hours are 8 a.m. to 5 p.m Monday – Friday, and you can reach us by calling 336-970-5900 during office hours. After-hours emergencies will be routed to the technician on-call.
When you call our office, be prepared to tell us about the issues you are facing, so we can schedule the appropriate amount of time. Please notify us when scheduling an appointment if you will be requiring any special assistance during your visit.
Your first appointment typically lasts about two hours and will consist of an eye examination. Your eyes may be dilated at this time, so you may need to arrange for alternative transportation to and from our office.
Things to bring to your appointment
All insurance information
A photo identification
A list of all medications you are currently taking, including over-the-counter medications
Names and addresses of your other doctors
Any prescription eyewear
Any eye drops you are currently using
Sunglasses to wear home after your visit – your eyes may be sensitive to light
New patient packet
During your first visit, you will be required to review and complete a new patient packet. You can save time by clicking here and completing these forms before your visit, or arrive at least 30 minutes ahead of your appointment to complete these forms in our office.
HIPAA
Health Insurance Portability and Accountability Act (HIPAA) forms must be completed to ensure your privacy.
These forms also allow us to tell others in your family if you wish for them to be advised of any diagnosis and treatment options. All new patients, and/or parents/guardians of child patients must complete this form.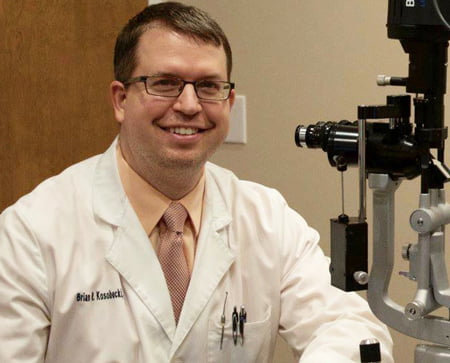 Dr. Brian Kosobucki, MD
Brian Kosobucki, MD, is a Vitreoretinal Surgeon who is highly experienced in the diagnosis and treatment of illnesses and injuries related to the retina.
Dr. Kosobucki's Education:
Bachelor's Degree: Pharmacy from the University of North Carolina at Chapel Hill graduating with highest distinction.
Medical Degree: Wake Forest University School of Medicine.
Internship & Residency: University of Mississippi Medical Center where he served as chief resident in his final year.
Additional Residency: University of California at San Diego.
Dr. Kosobucki lectures for various society meetings and has appeared on televised public health educational programs. He has co-authored two chapters in current retinal textbooks and has been published in respected ophthalmic journals.
Insurance/billing information
We want you to receive all of the benefits for which you are eligible from your health coverage. We accept most health insurance plans, including Medicare.
Please be sure to bring your current insurance card with you.
Be prepared to pay your co-pay amount at the time of your appointment. If special payment arranges are necessary, please contact our office prior to your appointment.
Most plans require prior authorization before any type of surgical procedure is done. If you are uncertain about your coverage, please contact our office and We will assist you in any way possible.